How to Overcome Dog's Aggression
You can subscribe for our FREE NEWSLETTER, which we have created for our loyal customers and those who joined us later, right here on this page! This is an archive of all sent Newsletters, which will help you not to miss interesting information about your breed and some opinions from experienced breeders. Join us and you will definitely know more about your beloved American Bulldog!
American Bulldog isn't so aggressive breed as other can be, but the problem of dog aggression doesn't pass them by. It is a major problem for all dog owners and it is rather hard to overcome it by yourself. It requires in-depth knowledge of dog's behaviour and understanding of its causes (the most common are anxiety, fear or phobia, lack of structure, a traumatic experience, territorial behavior, abuse from owners and, sometimes, some medical causes). That's why we want to help you with an advice from professional experts, which will help you to struggle with this problem and, sooner or later, to overcome it.
If you have noticed that your American Bulldog behaves aggressively - the first step to make is to address a professional dog psychologist, which works with dog behaviour correction. Experts say that this problem is rather serious and you shouldn't leave it unattended, because it won't disappear. Whilst you are struggling with this problem, you should take some precautions to minimize the damage your dog can make. First of all, muzzle your dog while walking in public places or receiving guests. Secondly - always keep an eye on your dog and do not let him to become out of your control. Thirdly - try to avoid situations that can provoke your dog to behave aggressively. And, finally, DO NOT PUNISH your dog for aggression. Your dog will start to fear you and that will lead to a much worse results that can cause severe attacks.
​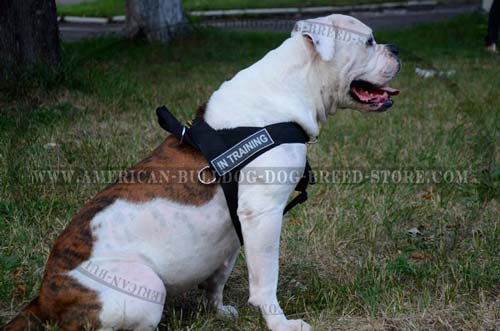 ---